The options that the market offers in the field of cleaning and laundry are so many that it is difficult to choose among all the possibilities: shelves and shop windows are full of various types of detergents and we are often attracted by discounted products that then prove ineffective once we use them at home.
Buying the cheapest product isn't always the best choice!
We risk damaging fabrics, needing a double dose of product or even doing more washes to clean clothes. So the initial saving becomes a waste of time and money.
Thanks to more than 50 years of experience in the laundry sector, HygienFresh only produces high quality professional laundry detergents!
PROFESSIONAL STAIN-REMOVAL in the first wash
INTENSE PERFUME that lasts for days
SPECIFIC FORMULAS for each type of fabric

HYGIENFRESH SCENTED DETERGENTS
Super concentrated cutting-edge detergents for a perfect maintenance of garments and furnishing fabrics
Available both in professional sizes and for home use

ENZYMATIC DETERGENTS
MULTI ENZYMATIC Detergents with various fragrances for white and colours. Wide spectrum of action against all stains.
They effectively eliminate stains, even the most difficult ones.
Multi Enzymatic System with Protease, Amylase, lipase and cellulase
Super concentrated surfactants for a degreasing effect.
Free from phosphates, silicates and alkali
Perfumes matching softeners for an extra scenting effect
BIOMUSK with White Musk fragrance
BIOORKY with Wild Orchid fragrance
BIOLOTO with Lotus Flower fragrance

TREATMENT OF COLOURS
Detergents with "colour-protecting" action for washing machines and washing by hand. They give particular brightness to white, black and colourful garments.
Delicate on colours and fabrics
They prevent colour loss, redeposition of non-fixed dyes and fibre greying
They restore fabrics to their original brightness
Free from phosphates, silicates and alkali
WHITE EXTRA Specific for white garments
BLACK PREMIUM Specific for dark and black garments
SALVACOLOR Specific for colourful garments
NOTE DI PULITO Ideal for mixed washes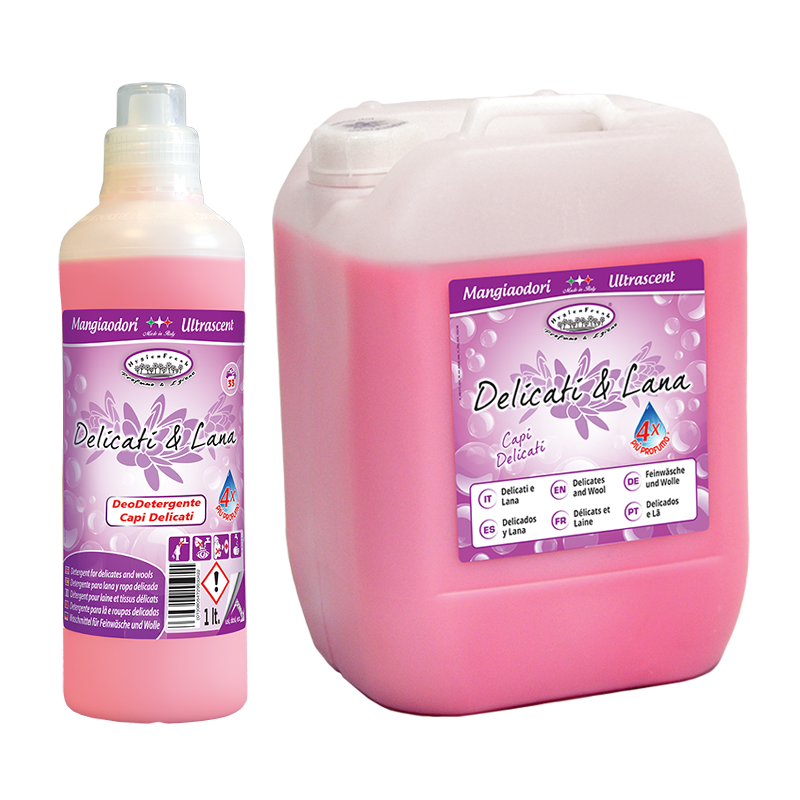 WOOL & DELICATES
Delicate liquid detergent for washing machines and washing by hand, intended for all woollen and delicate clothes.
Excellent degreasing effect also with cold water
Delicate on colours and garments
Anti-felting effect
Free from phosphates and alkali
With a pleasant Rose Milk fragrance
"Buffer" technology to avoid wrong doses and maintain correct washing parameters
WOOL & DELICATES Ideal for precious fibres and wool